11:21 PM • • 1 cmts
About that, well actually, that's really all i have to say at this moment in time.
However, despite the fact that I have consistently proclaimed my obviously undying love for the pill; REJOICE! party people, because there's one more Friday night option.
I give you
Soul Clap's
"Friday House Party!"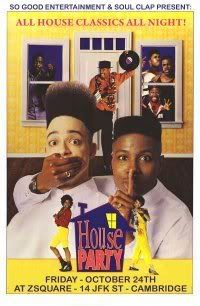 www.myspace.com/soulclap

I'm not really too sure every one's opinions on old school house music, but at the present I have found it to hold a certain resonance. In my earlier days regarding house music, I found myself adopting the notion that house music is too "soft" or "unrelatable".
I know, I know; pretty fucking stupid, right?
But hey , that's what I thought, as of right now I have developed a more mature stance regarding the sounds that can be categorized as house music.
In any case, I am pretty positive everyone goes through what we would call phases.
I'm willing to put the little money I have on this party taking you "there".
I guess that's everything for now, but who knows the weed I've been smoking has been robbing what little I have left of my memory.
Which leads me to ask, did anyone go to
Heart-Throb
? If so , hit me up with your observations and wrath.
love the Knight of 77'