4:00 AM • faggot, fuck, hercules and love affair, sister • 0 cmts
Now that that's over, the only way im going to fuck anyone's sister is if they are 100% related to a beautiful woman named Nomi i.e the show stopping lead for Hercules and Love Affair.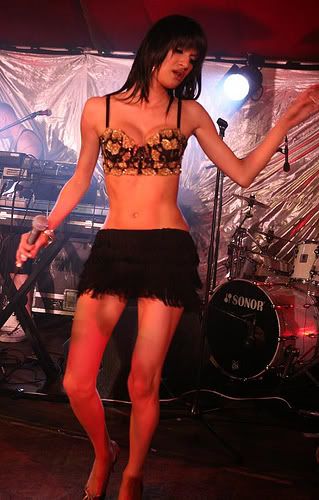 Seriously, all bullshit aside, as I previous stated the only thing I get excited for is free gay porn .
But,last Wendensay Hercules and Love Affair truly reminded me of what a show is and can be.
Our night started off a little slow, to say the least. My zealous nature for some reason insisted we show up for a 10pm go time at 7:45? However, it was wonderful to see the excitement of fans and curious passerby's alike. The opening sets of DJ's Red Foxx and Emarce were mismatched to say the least. Red's set appeared to gear up the crowd used to Hercule's unique mix of disco,electro, and straight forward funk. Especially in regards to spinning some amazing early eighties electro funk tracks. On the other end I found that Emarce's opening set came on a little strong. Think about some drunk girl in cowboy boots that gets a little too hot and bothered over the fact that somehow you have drink tickets, and I would say that is extremely reminiscent of the sound of Emarce's opening set. However, I have always found that diversity in sound between two DJ's is very essential to keeping any dance party interesting, but with that said, it is in my humble opinion Emarce could have taken a different route to get there. However, Emarce's set did lead us to the best part of our evening.
I'll give you all one guess in regards to what Im talking about...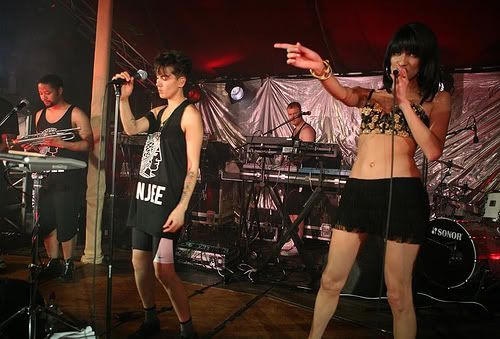 First things first, you really have to appreciate the blatant queen like nature of Hercule's opening song "Im Telling You" , especially regarding their late to mid 70's disco/pre house swagger. Honestly, which is probably highlighted by the fact, that this is a live full band, no computers, no samples, and no bullshit. Thus, when experiencing this band live, you are given no choice but to allow them to lead the way through the soulful, back alleys of Hercules and Love Affair.
Luckily, I was in enough of a triffling mood to steal an all access wristband, and needless to say I made a quick beeline to keyboardist Andy to fire off a barrage of inane questions by a star struck faggot. However, after a rushed exchange I was left with a simple, but resonating statement from Andy,
"We're just trying to make great dance music."
With a no holds barred approach to showmanship and musicality Hercule's and Love Affair does simply that.... and thats pretty all I have to say about that. I mean, I could continue on with the rest of the night, but as soon as Hercule's set ended that's pretty much when my night ended.
actually, this where my night ended... with this thought
"maybe fags really do, do it better."
but then it again this coming from your truly
p.s Red thanks for giving me early 90's metal head tailgating in my high school parking lot on a Monday morning.