5:23 PM • • 2 cmts
Continuing on . . .
After maneuvering through a sea of ill fitting cowboy boots, and sweat drenched bangs. We decided to take a breather from Throwed, and go to where the big kids play.
You know her, you hate her, and you love her . . . HeartThrob.

This week at HeartThrob we were treated to Xxxchange, featuring one of my faves in Boston right now, Mr. Chris Devlin. If you hadn't noticed, I am still gagging over his set over at Shake Em down a couple of weeks ago. Moving forward, I found this HeartThrob to be particularly interesting for a couple of reasons. The main one being, that whatever Throwed wasn't bringing to the table, HeartThrob had already served it and vice/versa. For instance, although HeartThrob obviously lacked the youthful recklessness that Throwed appears to breed quicker than jack rabbits on tina*. I found the music, to be presented in the cohesive matter that always seems to allude Throwed. And it goddamn it feels good to finally hear The Kills
Cheep and Cheerful(Sebastian Remix)
outside of the "tip-quarters." In addition to the tracks Tommy and I slam-danced to , I was extremely surprised to see the direction in which the visuals at HeartThrob have gone. Given the fact that it was the first party in our city to really bring the importance of visuals back to the the Boston electro scene. Replaced, are the almost gaudy hearts, bunnies, and everything else that was too annoying to look at. In its place, are strobe lights(FUCK YEAH),and a more minimalist point of view. All of these new developments has your humble author wondering if he was right in imploring all of you to stay tuned and see what HeartThrob has in store for us?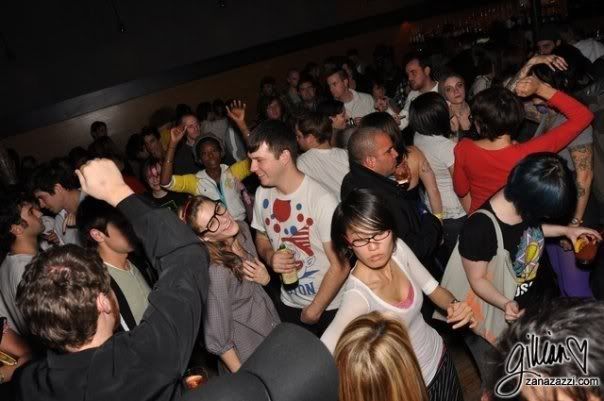 but then again . . .
xo
Knight of 77'