I'm not really too sure where to start with this one. Fortunately, after becoming the Nancy Drew of Boston nightlife i.e sitting by the bar notepad and pen in hand; I have more than ample supply of cunty remarks, drunken proclamations, and elementary check pluses to go around. So, lets get crackin' , and I'm definitely not joking this time (shot out or ,shit talking ... I'll let you guys be the judge)
Which leads us to the Thursday night Boston party tour, sponsored by Tommy Tuff's recently reported stolen(parent's just don't understand), uninsured, and gas guzzling car.
I began my travels at Shake Em' Down which, for those of you that are still out of the loop is located at the only lesbian centric (sp) bowling lane with a fully equipped bar i.e The Milky Way.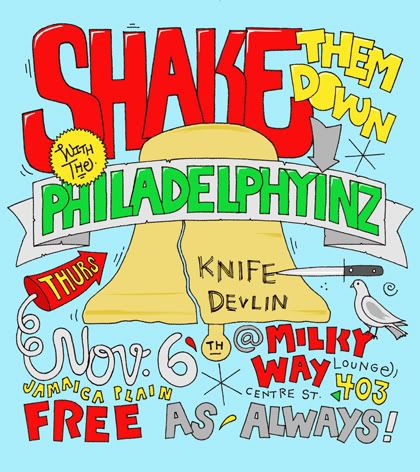 Despite, not having gone to this event since the summer, as always I really couldn't complain. After stuffing my face with my favorite dollar menu fare ( double cheeseburger w/ extra pickles, and big mac sauce) I was greeted by Chris Devlin's set, sent from the electro-disco- funk heaven's. To be more specific, music I haven't heard since my mother was hammered in our old living room "re-living" her glory days. But, back to the lecture at hand with a set featuring Yaz's
Situation
and what I believe to be Stephanie Mills , I'm fucking sold.
Of course, I can never say enough about Mr. Knife. Seriously, I never get sick of Toni Tony Tone's
Feels Good
, and not just because it brings me back to my high top fade, and traditional Black family cookouts. That aside, contributing a solid collection of 80's,hip hop, and some early house ( WORK). Knife's track selections completely rounded out this duo. Although, I kinda lost interest when Ce Ce Peniston reared her ugly face. But, as we all know in Boston, we pick and choose our battles, or at least I do. Only real regrettable aspect of my evening at Shake Em' Down was missing out on the Phillidelphyinz. All and All, no complaints on this side of the fence.
Next on the Boston Party Tour, I found myself at Make It New or Make It Blue as I was calling it in honor of the one they call "Volvox".
Make It New has always been a 70/30 for me, for a couple of key reasons. Aside from the fact that it truly is a freaky scene up in that bitch, I have always enjoyed the technical versatility that is displayed through its resident DJ's. For instance, this week we saw the return of DJ Die Young, who always executes his sets with the ease I always imagined a trained hit man would employ. Although that analogy could be a bit dramatic , but I'm sure you get the picture. However, on the other end, It is easy for one to feel like they are witnessing the "30something shuffle" to one song that has been played continuously through the evening.
With that said, we hit the last leg of the tour i.e So Dope.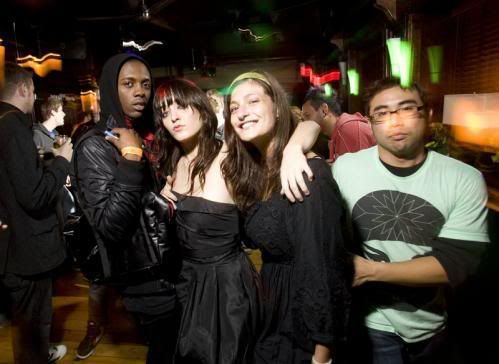 Now, there of course is a lot of false advertising in regards to dance nights in Boston(you know who you are) but finally a night worthy of its name, and trust me I don't use the word dope ( never as a positive term). However, So Dope was dare I say, pretty fucking "dope".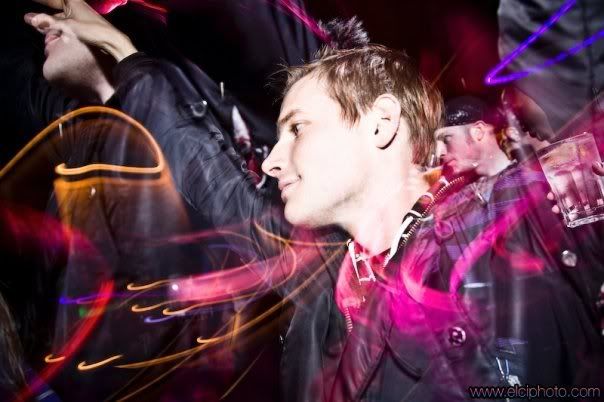 I'm pretty much only going to give one reason why So Dope worked it out for me. Simply put, it was the only party that I went to last Thursday( lets keep in mind that I went to three) that had me on the dance floor the minute I walked in. I'm not really sure about everyone else, but that's really all that I want when I go out. I had a minute between getting sweaty, smoking ,and getting felt up by over the hill homosexuals to speak with So Dope chieftain , Jay Kennison. I really only wanted to know one thing , which is his response to this phrase
"About fucking time!" and to which he responded
"In six month's we're going to take it over." and I can't fight him on that. Well done So Dope.
Stay tuned, because you all know there is always more to come on with that tip.
xo
Knight of 77'