5:58 AM • new wave, post punk, Rescue, the model, what the fuck • 5 cmts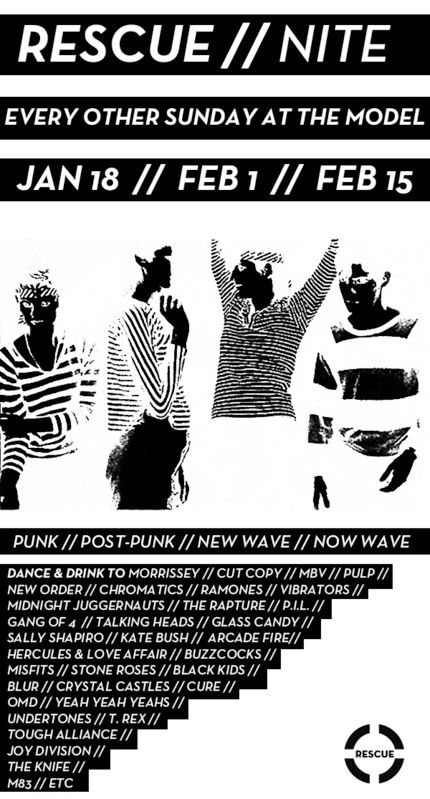 First thought that came to mind, honestly. However, you have to give it to Rescue. This store is
definitely
on its way to "rescuing" ( forgive the obvious play on words) Boston from the false hopes of what a vintage clothing store can be, and has been here. So, why not expand into
providing
the top of the line tunes for the kiddies? Boston, I give you Rescue
Nite
at the Model . Featuring
Jeralyn
our favorite lady behind the counter, and now she's behind the decks. Thank god because we all know this city is always in need of one more fierce lady
DJ
(
that's
right I said it)

For this post instead of my usual declarations, incoherent assessment's of nights that I have been to , and lets face it , shifting through vodka soaked notes . I figure we would get the synopsis straight from the Lions Mouth (
that's
for you
Jeralyn
) . That is a serious musical hint for some of you , and if you guys get it, you are going to love what is in store for you. However, for right now here is my q&a with
Jeralyn
!




What is the name of your night, and what is the

background

of that name?


We haven't really thought of a proper name yet, so we're just calling it RESCUE
NITE
. Not very exciting or original, I realize, but we want to keep it associated with the store for now. Perhaps we'll think of something better soon!
Where did the idea of doing this particular style of a night come from?

I have been
DJing
in NYC for 6 years and my nights have always been post-punk/punk/new wave-specific. I just love that style of music and I love the new bands that are influenced by it, so I try to mix them together and get people dancing. As far as doing the night here in Boston, we decided it would be good for us because most of the nights we know about are either techno/
electro
nights--which is music that Paul & I are not really into--or "joke" nights, like at The Model when some dude will just play 20 Misfits songs off his computer. We wanted to do something that goes with the philosophy of our store--mixing the best of the old and the new in a fresh way.
How long have you been

djing

this particular style of music ? and what initially attracted you to these diverse genres?


- I've been
DJing
for about 6 years and I've been record collecting for about 14 years (makes me sound SO old to say that!)... when I first moved to NYC, my boyfriend
DJed
fairly regularly at some prominent parties and he kept insisting that I get into it since I spent so much money hunting down all these old records and was constantly obsessing over new bands that were in a similar vein. Post-punk and new wave has just always been my jam. I love the eighties, can't help it, always have... especially once I discovered how many newer bands that I liked were influenced by them...

How do you think your night will stack up against other nights in the area that are of the same vein ? or is that even a concerning factor?

I don't know of any nights that are similar in style to this, except maybe Heroes at
TT's
? I guess The Pill plays similar styles, but they also veer into the
electro
that we'll be staying very far away from. Also, our night is going to be more about just hanging out and chilling, not a super crazy party, so hopefully we'll all be able to co-exist.

OOH this is hard, of course! Here's what I love right now and this is as of this moment, right now, and subject to change in the briefest second:

Gentle Touch - Expectations
Pulp - Acrylic Afternoons
Billy Bragg - The Marriage

Dramarama
- Anything Anything
Shocking Pinks - This Aching Deal
A quick personal question,The Sound versus Joy Division ? Who wins and why?

Well this is a toughie, but I will obviously have to go with Joy Division because, not only have they changed my life in many irrevocable ways, but I also have "She's Lost Control" tattooed on my neck... (Though I have thought about a few Sound tattoos and will probably get one someday!)

If you like what you just read, and would like to get a quick sampling of what to expect,
Jeralyn
was kind enough to provide a short
play list
. Which, includes a couple of links to each individual track for
additional
downloading.



RESCUE

NITE

PLAYLIST
Stone Roses - Elephant Stone
New Order - Age of Consent


Siouxsie

& The Banshees - Christine

PIL
- This is Not a Love Song
The Cure - Like An Animal
Pulp - Do You Remember The First Time?
Vibrators - Baby Baby
Cut Copy - Saturdays
Gang of Four - Damaged Goods
Bow Wow Wow - TV Savage
The Slits - Walk About
Friendly Fires - Jump In The Pool
Maximum Joy - Stretch
Liquid Liquid -
Optimo

A Certain Ratio - Shack Up

Morrissey
- I Don't Mind If You Forget Me
Blur - Boys and Girls
Pylon - Danger

MGMT
- Electric Feel

Get ready Boston, Rescue is here and I don't think they're taking prisoners

x