3:40 PM • americanpsycho, Circus, I love paul / jeralyn mason, losing it, m.g666, sodope, WEEK IN ADVANCE • 0 cmts
apply the same idea to this weeks upcoming event's
Weds February 4th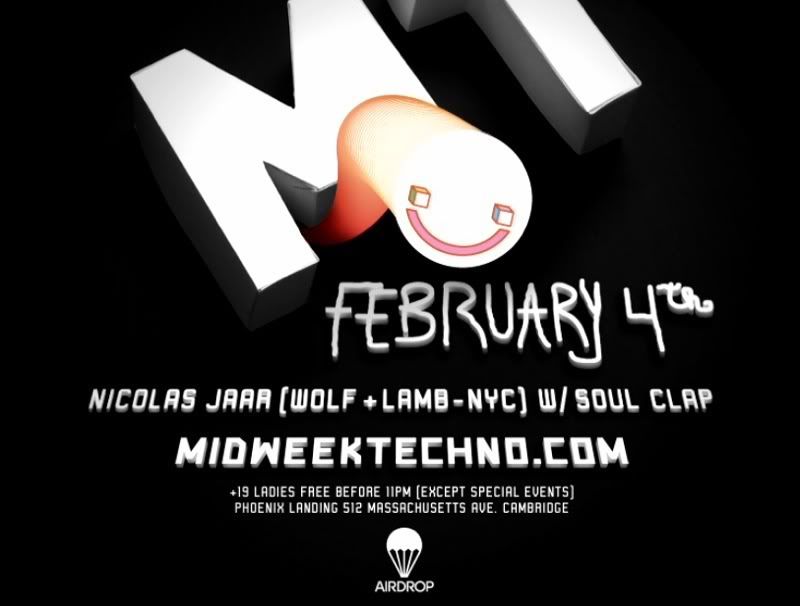 Welcome to MidWeekTechno at the Phoenix Landing , and this week these guys are bringing us
18 year old

wiz kid

Nicolas Jaar, of Wolf and Lamb Music. Obviously, I am always a sucker for fresh young thangs, and that aside young talent is always exciting to see . I was able to track down a
mix
that Nicolas has available for you guys to check out.
I think it will inspire you to treat Midweek Techno like your "End of the week Techno".


Thurs. February 5th


Shake Em Down
Milky Way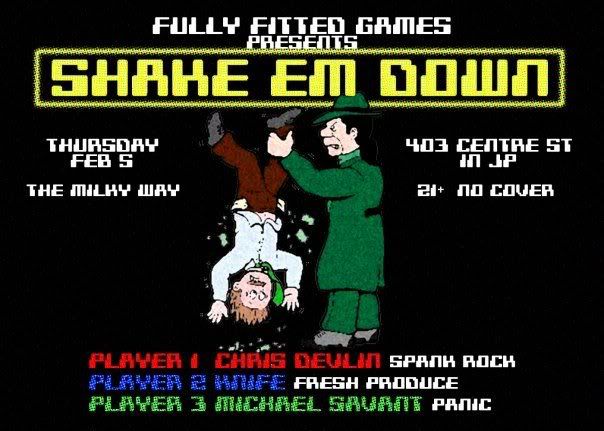 Many of you know my absolute love of Shake Em' Down. I can't stress enough the diversity in all forms of contemporary and retro based electronic dance music. I personally have never been disappointed in the offerings available at this night. In addition to the music, can I just mention bowling to 80's Electro Funk. Think about it!





So Dope




Venu







Thank god. Thank god. Thank god. Although Dorchester is the place of my youth and the source of most growing pains i.e my hometown. We all know that trooping to Dbar is just , well it's just a pain in the ass, and probably not the good one some of you out there enjoy. However, this Thursday, Jay Kennison and Co. are making it so much easier to get crazy for all of us. For the relaunch of So Dope, we are given the styling of LA's well noted DJ Papparazzi. Which is a huge point of interest for me. Also, can I just say , bottle service?
We'll be here, and you should be too.

... if we're still standing, which I am more than positive Mr. Mason will allow for nothing more :)



Friday February 6th

Retro
Privus Lounge






I may have spoken a little t0o soon, regarding the last
Boston
dance night niche being filled in by our friend's at Rescue. Perhaps, what we need is just a straight forward 80's & 90's dance jam filled evening. However, I am starting to feel like maybe we have exploited the 80's pop / jam's tot he point of no return. However, can you go wrong with a three dollar cover on a Friday Night, in Allston; Probably not , and I don't think this event is to be missed.





Paul's Bday Bash
location: none of your goddamn business .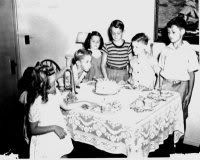 I honestly, don't have too much to say about this particular event... Just know, when Roguewaves and the Mason's join hands , it can only get better ... and by better I mean, random shouting about how awesome sisters of mercy are, how annoying Paul's taste in women are, how Jeralyn and I are the same person, iweareverycoloraslongasitsblack, Zak's goofy feet, Hercules and Love Affair, Jameson's, and

"Those crazy masons"



Jealous , I would be too

p.s happy bday Paul.



Saturday February 6th

Circus
Privus Lounge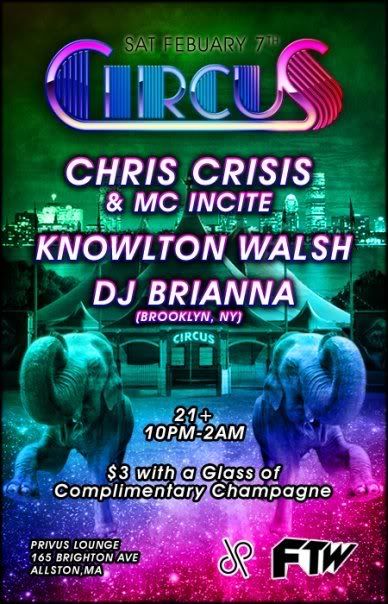 ..... you know what it is, and you know how its done, and because it really only gets crazier
But cover? I'm lost fellas .


So I hope you didn't just stare at it . . . because everyone should find a piece they want to sink their teeth into.

M.G

666




also if you think I missed anything , or if you have anything else to add, please let me know and I will be more than happy to tell you to "fuck off "
jk, .. send us what you have , because we are probably just as bored as you guys