12:26 PM • 1-night stands, bad descissions, Bassic, cocaine, croma, heroes, nye, quiche, rise • 0 cmts
....Of course it's all in the hopes of not repeating them next year. I enjoying lying to myself as well? So, lets get ready to do it one more time. Also, speaking of "one more time " , If your local NYE DJ drops that track, bring me his or her head for a handsome reward.
Moving forward, as some of you may or may not know there is an orgy of NYE events to attend this year in the Bean. However, when I say orgy, I am thinking senior aged swingers, in Tampa wearing animal masks .Furthermore, they are deciding if the Quiche at the
pre
- sex buffet is edible.
Now, if that doesn't get your palette going nothing this evening will. Perhaps, it's a little too soon to joke?
However, all
innuendo's
aside, I have been told that variety is the spice of life.
Boston, I give you N.Y.E!


Red Carpet New Year @ The Alchemist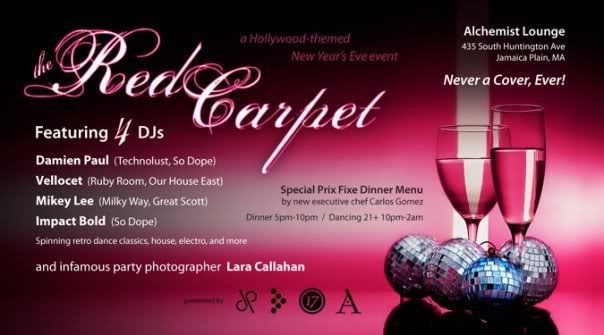 Amid, the 10 + DJ parties speckled across the city this evening , The Alchemist gives you four.
However, not without asking us this very simple question,
"Is less more?" I fear , I will not be given the answer. However, if anyone is heading out there this evening , key me into to what goes up, down and all around.
P.S NO COVER....?
NYE Bash@

Croma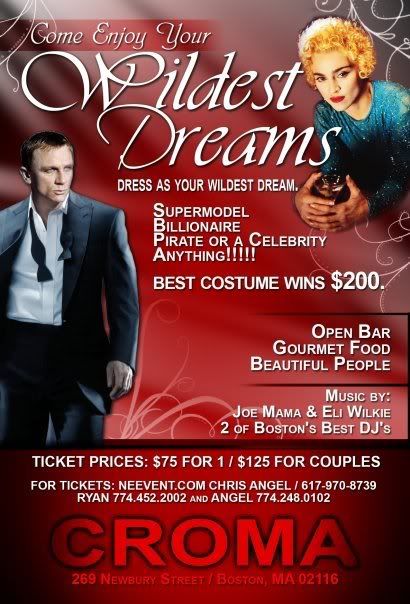 "Be a Supermodel, be a billionaire, Pirate, Celebrity, anything !"
or you could just be what I'm about to be in one more sentence. That's right, you guessed it!
An ASSHOLE
p.s most uninspired image of Madonna ever. If anything, you missed
"Be a
Tranny
" which is a far better option than any of the above mentioned.
fail.
Bassic

Does New Years Eve

I love the
Goodlife's
shady cave of mayhem. Otherwise known, as the dance -floor.
Our last experience there was epic, to say the least. Obviously given the nature of the evening , I would def say that this would be something to look into , if you like adult grade fun with minimum fuss.
NYE @ Rise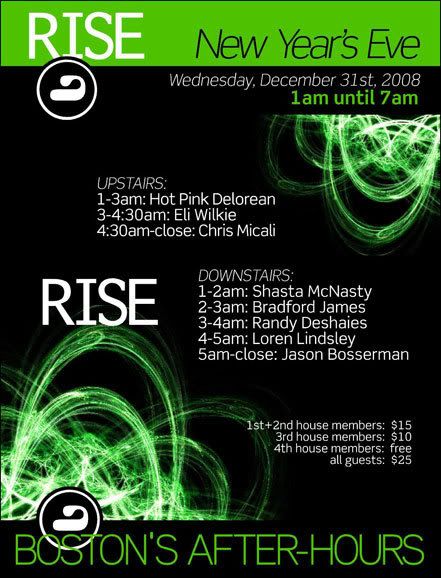 Simply put, not for all the E in China. Well, maybe....


Heroes @

TT's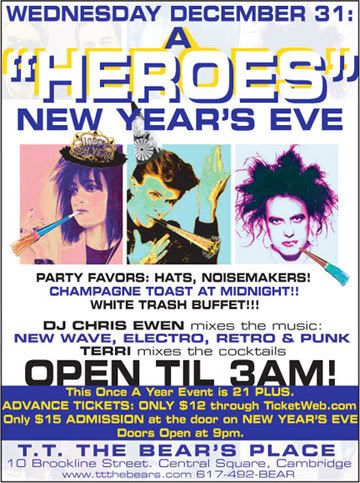 I would consider Heroes to be our left field option this evening. However, I think sometimes we need a break from the
monotomy
sometimes found in the usual options. We all know that given the length of time Mr Ewen has spent behind the decks , you can expect to hear the best of best in 80's , new wave, retro, and everything else related.
But then again, aren't we just getting out of exploiting the 90's?
Regardless, friends ,
frienemies
, and just good ole fashioned enemies , these are some options for Boston this NYE. If i missed anything ... sorry about that?
xo